Transportation to Freedom Of The Seas
Freedom of the Seas Transportation at Port Canaveral Reservations: 407-508-1927

Did you Know?

Port Canaveral cruise port located in central Florida (Brevard County), closest airport to Port Canaveral is only 42 miles from Orlando International Airport, average transit time is 50 minutes.
Port Canaveral is the second busiest cruise port in the world with six cruise terminals and 4.6 million cruise passengers passing through on an average year. Carnival, Disney, Royal Caribbean International, Holland, and NCL are some of the cruise lines which regularly use the cruise terminals. The casino ships of Sun Cruz Casinos and Sterling Casino Lines also use Port Canaveral offering a night of fun, food and gambling.

Port Canaveral Transportation, Orlando Airport to Port Canaveral Cruise Port Transportation. Orlando to Port Canaveral. Orlando to Port Canaveral Transportation, Orlando Airport to Cocoa Beach Transportation and Orlando Airport to Cocoa Beach Shuttles. Disney to Port Canaveral Transportation. Carnival Cruise Transportation Royal Caribbean Cruise Transportation Disney Cruise Transportation Cape Canaveral Transportation to from Orlando Airport and Disney Resort and Hotels. Transportation Shuttles to Port Canaveral. Disney to Port Canaveral Transportation. Transportation to Port Canaveral from Orlando, Transportation to Port Canaveral from Disney.


Orlando Airport to Port Canaveral: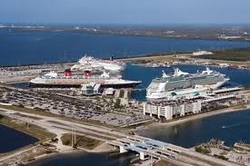 Let Orlando Sun Transportation accommodate your vacation needs with comfortable, affordable transportation. We understand the importance of YOUR schedule and our professional drivers will get you to the Port on time! When planning your vacation aboard Port Canaveral cruise ships let us drive you there safely and comfortably at a price that makes you glad you used Orlando Sun Transportation.
We provide affordable Orlando shuttle service to the following cruise lines at Cape Canaveral:
Disney Cruise Lines- Fantasy / Dream

Carnival Cruise Lines - Sensation / Dream / Ecstasy
Royal Caribbean Cruise Lines - Monarch of the Seas, Freedom of the Seas
Norwegian Cruise Lines - Sun, Gem, Jewel
---
Orlando Airport to Cocoa Beach /
Orlando Airport to Cape Canaveral: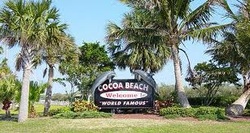 Cocoa Beach is an extremely well located beach area just 55 miles east of the of the Orlando Airport on the "Beach Line" Expressway .

Florida's Cocoa Beach is only about 75 miles from the Orlando Attractions such as Disney World and Sea World.
In addition it is only about 30 minutes from the Cape Kennedy Space Center and adjacent Merrit Island National Wildlife Refuge which makes it ideal as a Florida vacation family destination.

Located on a barrier island, between the Atlantic Ocean and the Banana River Lagoon, Cocoa Beach is just six miles long, and mostly less than one mile wide. While here you can choose between watching a space launch or many animal species in their natural habitat right from the beach!. You can swim in the ocean, or do some exploring off the Banana River islands, from our river shores. Play golf at our awesome golf courses, enjoy our great restaurants for dinner, or just enjoy a day at the beach where you might see dolphins at play or an occasional whale in migration.

One of the best things about Cocoa Beach is the weather. It is positioned where two climatic zones (sub-tropic and temperate) meet, so the weather here usually avoids extremes. Cocoa Beach is a residential community and a tourist destination. The casual beach lifestyle is enjoyed by visitors and residents alike!


---
Destinations:
Orlando International Airport Transportation

At Orlando International Airport we offer a "Meet and Greet" service to all our guests

included in our price. Our vehicles and drivers are permitted for legal pick up in a

convenient underground pick up location. All our chauffeurs use sophisticated flight

tracking devices to monitor all flights to assure that they are on time for our clients.

Port Canaveral Shuttle

When Traveling to Port Canaveral don't just trust any transportation company to service

your needs. Our company is proud to serve Port Canaveral Cruises. We ar permitted to

operate in Port Canaveral and our chauffeurs are specialized in helping you with the

disembarkation process to make it a seamless procedure to return back to the Orlando

International Airport or or any other great local destination you may be heading.

Downtown Orlando

In the heart of Downtown Orlando there is the home of the Orlando Magic which is the Amway

Center. There is also Church Street which at night time its Orlando's local nightlife

scene. If you are looking for a hotel in the Downtown Orlando Area there is the Grand

Bohemian, Crown Plaza, Marriott, and a few other hotels.

Walt Disney World

When traveling to Walt Disney world there is many different ways of getting there but why

not take the best and most reliable way to arrive to your destination in style. We are

proud to offer all the Disney Resort areas high end transportation service at a price that

will not break the budget.

Sea World

When Visiting Sea World Orlando is a one of a kind experience. You get to see the beauty

of the oceans in action in front of your eyes. The amazing shows of animals and humans

performing together are really a must on any vacation. Sea World is a great place to spend

a day and learn about the different marine animals.

Sea World / Aquatica

Looking for a cool way to enjoy a hot sunny day in Florida, visit Aquatica Sea World's

water park. Traveling to Aquatica can be simple and fun when traveling with our company.

Reserve private transportation and leave the driving to our professional chauffeurs.

Aquatica is a very busy park during the summer so parking can be very hard to get and you

have to pay for it. Leave the stress to our company.


Transportation to Carnival Ecstasy, sailing out of Port Canaveral.

The 2,052 passenger Carnival Ecstasy will operate four and five day voyages to the Bahamas from Port Canaveral. The Carnival Ecstasy currently sails to Mexico out of Galveston, Texas.
Carnival Ecstasy will depart on Thursdays on four day week long cruises visiting Nassau and Half moon Cay or Freeport. Five day cruises will depart on Mondays and Saturdays and call at Nassau, Freeport and half moon cay or key west.